Yesterday was my grandma's 70th Birthday. She had a very nice dinner party at the Hyatt Regency hotel in central London. It was so much fun. Plenty Champagne and beautiful food. Although i was asked for my ID which annoyed me quite abit. I guess the fact i was sitting at the grandchildrens' table consisting of 13 people with an age range of 1 - 20. Nevertheless, it was a beautiful night with the amazing company of my family, some of whom i had not seen for awhile.
My dress is from River Island. Really fell in love with this dress as soon as i tried it on. I love how the extra sleeved arm falls and the colour was so beautiful i had to
make my mum get it
buy it.
Took this picture right at the very end. Flowers were from the table centre piece. They are so beautiful. Couldn't let them be throw away.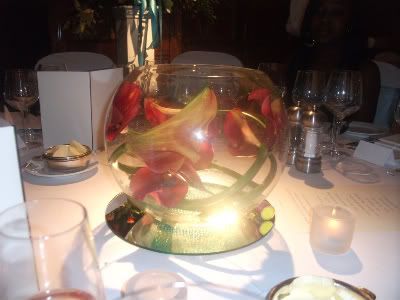 My favourite dish was the main. Herb Marinated Halibut with Saffron Mussel Broth. Yum. Now if only i could recreate this.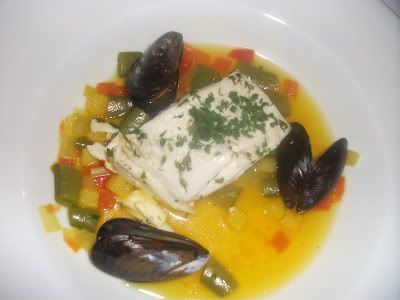 Earlier this month, we were given this award by Amandita at
Done n Done
. Do visit her blog, she has amazing make up designs. Been meaning to say thank you and give the award to five more beautiful bloggers.
Rules for this award:
State 5 facts about yourself and award 5 others
Lola
1) I love MGM musicals from the 40's and 50's. When im uspet or bored i just put one of my dvds on. My favourite actor being Gene Kelly. He was just an amazing dancer and too talented.
2) I lived in Nigeria for 14 years and had a 3 year stint in a Nigerian Boarding school. Lets just say it wasn't fun.
3) If i had my own show, the theme song would be Earth, Wind and Fire - September.
4) I hate cereal, its disgusting.
5)I've been wearing glasses for 11 years and recently made the decision to wear contacts after a failed attempt 5 years ago.


Fikki
1) I have an obsession with seafood....fish, mussels, squid, prawns, octopus, eel....You name it and put it in front of my face, it will be gone in a heartbeat!
2) Sometimes I think I am a shit human being because I can't ride a bike, drive a car (failed my test), climb a tree, swim or roller-blade/skate. To be honest the only thing I can do is walk because running is a bit of a chore.
3) I cried when The Hills ended and refuse to watch the shitty city. I still wonder whether any of it was ever real(!)
4) I have an obsession with buying lamps when I go on holiday to a foreign land.
5) Up until I was 13 I hated school and now I actually do not want to leave uni. I'm thinking of new ways to stay in education for longer!
Giving the award to:
For their gorgeous taste. check them out at well.
P.S. Thanks to the recent followers. Will be answering comments and going through all your wonderful blogs :)