Ever since I made these, over a week ago, I have been dying to repeat the recipe. I literally consumed a batch of 21 of these bite-size treats in about 2.5 days...the original plan was to eat 3 a day for a week...I even made 3 different flavours so I could stick to the plan #epic fail!
Nevermind, as long as you make attempts to work off the chocolatey goodness, who cares if you inhale them in a short space of time. I am suprised they lasted that long, it took sheer will and determination to avoid scoffing them all at once!
Anywoos, here is the recipe for these delightful treats. I initially planned on coating all of them in cocoa and then I had a light-bulb moment...
Salt, pepper and chocolate truffles - makes 20ish bite size truffles:
Ingredients:
150g dark chcolate
80ml double cream
1 tablespoon of unsalted butter
1 tablespoon of Kahlua (but you can also use amarula, baileys, brandy, rum, bourbon...)
Coatings:
1) Melted chocolate (I wish i tempered it - for a glossier finish) with sprinkled rock salt
2) Melted chocolate with sprinkled dried ground pepper (I used nigerian dried ground scotch bonnet...fiery!)
3) Cocoa powder
How to:
Break up chocolate and place in a bowl.
Put butter and cream into a saucepan over medium heat and bring just to a boil.
Pour over broken chocolate and stir gently until you have a smooth mixture.
Stir in liqueur and refrigerate until firm (at least 4 hours or overnight)
Once firm, grab a heaped teaspoon sized amount and roll it into a bite-sized ball.
Placed on a tray and continue until you run out of chocolate.
Don't worry if they are misshapen (mine were!).
How to (coating):
1) Using two toothpicks dip your truffles into the melted/tempered chocolate, place on a tray and sprinkle with rock salt.
2) Using two toothpicks dip your truffles into the melted/tempered chocolate, place on a tray and sprinkle with dried ground pepper
3) Roll truffle in a plate of cocoa powder and place on a tray
Leave to refrigerate for a couple of hours and then try out each of your flavours before everyone else eats them all.
I think next time I might experiment with different coatings and flavouring...I'm thinking chocolate orange flavour or dessicated coconut, toasted nuts coatings...yum!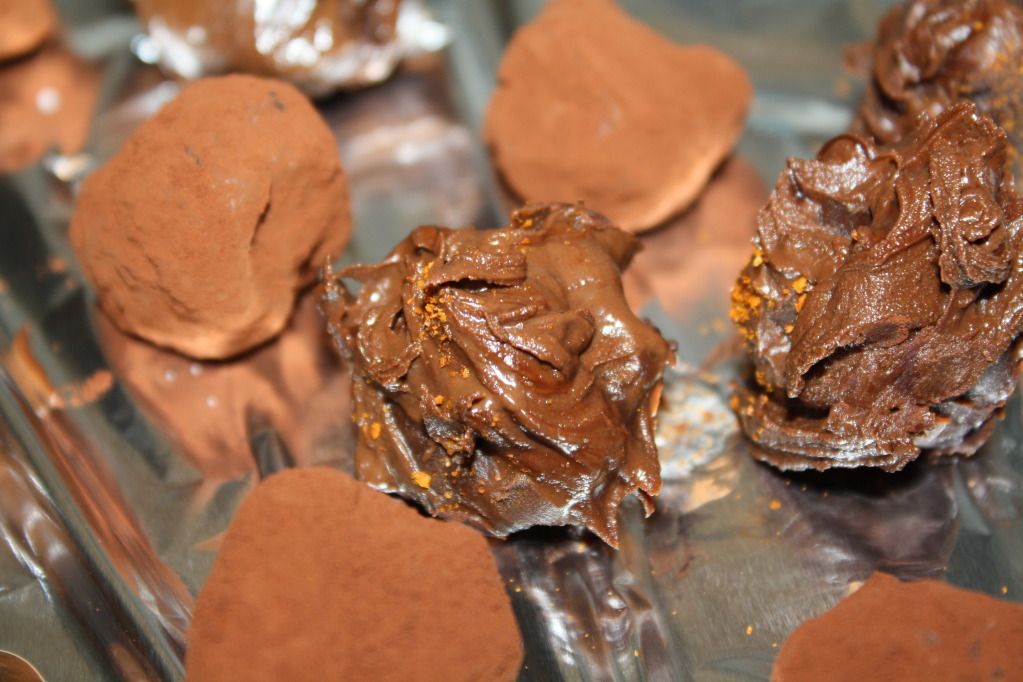 I took all the pictures before the coatings had set and forgot to one they had set...but you get the idea
Ps...they also make a great inexpensive gift for a friend. Just pop them into a box and tie a ribbon round the box!