2012 was an awesome year...we had the queen's diamond jubilee, the Olympics and Obama's re-election. On a more personal note: we travelled to new locations, gained new degrees, met some awesome people and simply just partied it up! So to celebrate what has been an all round fantastic year we give you our favourite outfits of 2012...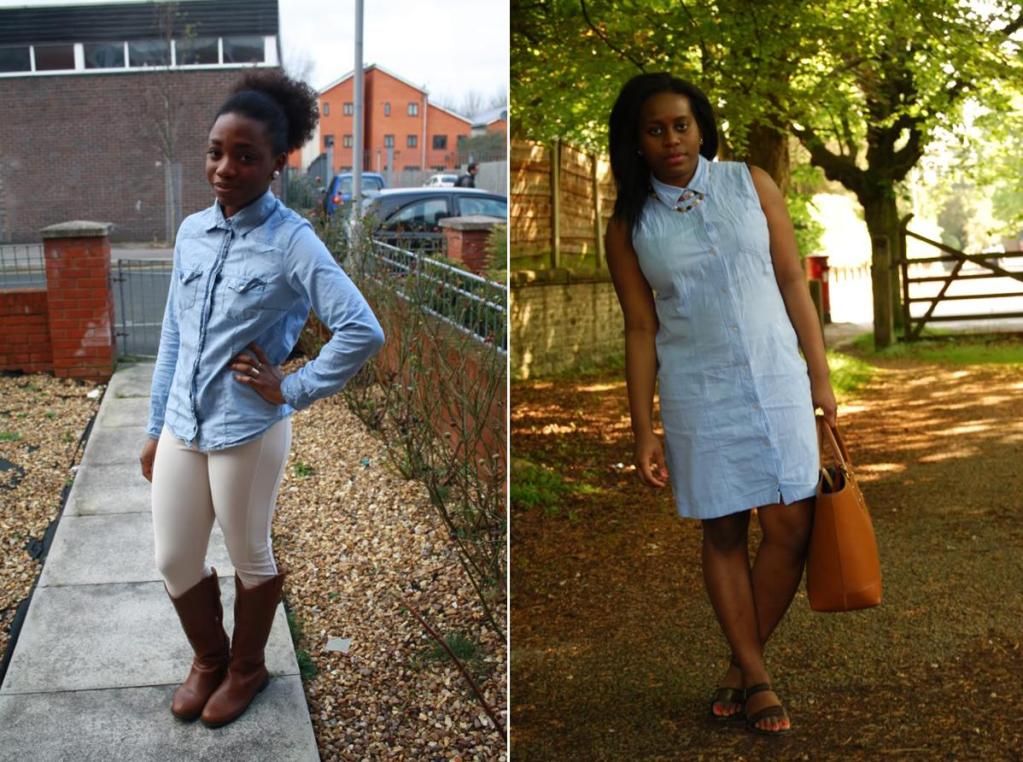 Dressed down in Denim
Fikki:
These H&M riding pants were one of my favourite purchases of the year. I wore them quite a bit during the days I spent in a laboratory earlier this year. I chose to wear them with a denim shirt and riding boots, adding to the equestrian look. The boots sadly died after a year of serious use so I'm currently on the hunt for a replacement.
Lola
: Bought this dress in the charity shop I frequently go to near my mum's house. It originally was down to my ankles but with my sewing machine I managed to make it one of my favourite dresses of the year. I love the simple shape and it was perfect for a sunny day in Manchester. Plus, the setting made it one of the best posts I have done.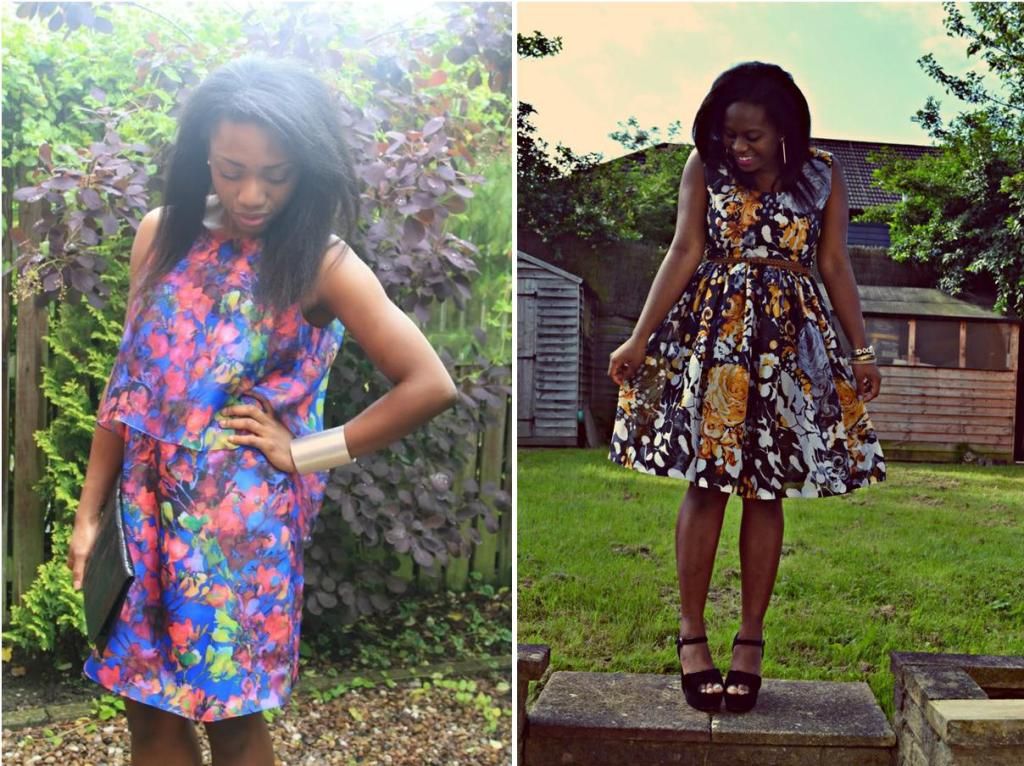 Celebrating in Summer Florals
Fikki:
Worn twice this year and featured twice on the blog. I absolutely adore this dress and I'm constantly surprised by the fact it's from New Look (their limited edition range). I think its the perfect celebration dress as its a simple shape but with a very striking print on it. I wore it to celebrate the end of my BSc degree and to my cousin's Nigerian engagement, receiving lots of compliments on both occasions. I still regret not buying the matching trousers.
Lola

:
Worn to a family wedding, this dress was made for me by my seamstress in Nigeria. It's the kind of girly shape I go for and had two made in chiffon. Looking closer, I realise I lost the spike earrings I was wearing. sad times.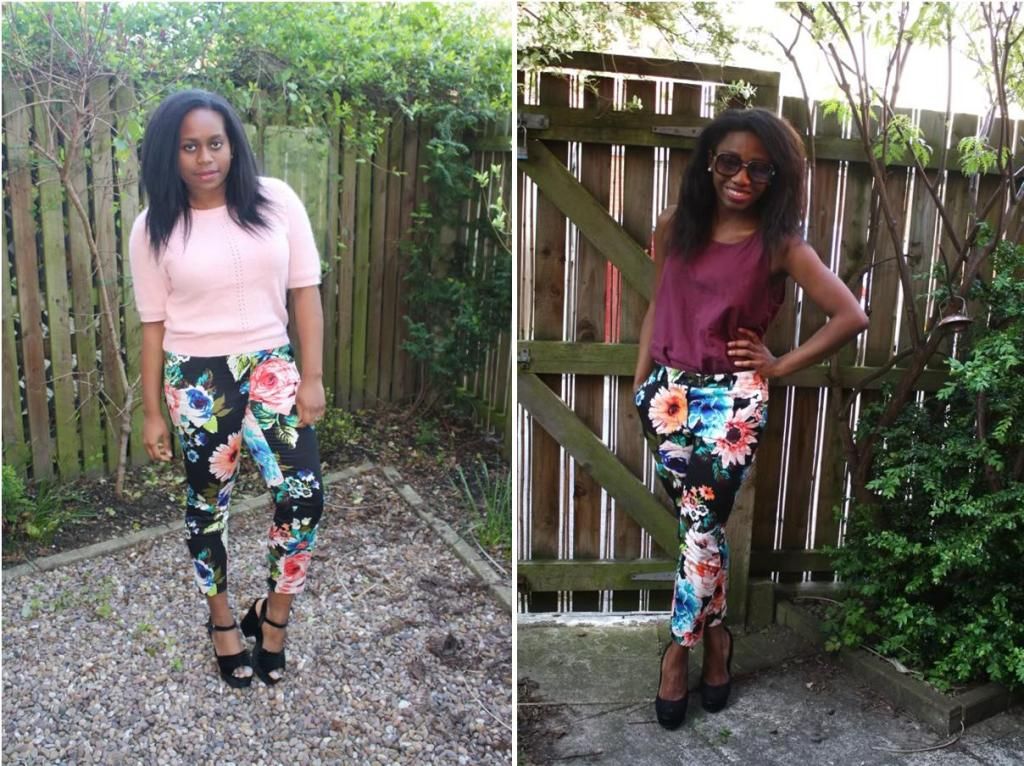 Blogger's favourite: H&M Floral Trousers
Fikki:
These trousers were all over the blogosphere and I succumbed to buying them as they were perfect for the summer! I wore them with a simple maroon top and heels for post exam drinks. I could finally enjoy the great weather after months of revision hibernation and this was the perfect outfit to do so in.
Lola:
I remember buying these when they came out. I randomly went into H&M to check if they were in stock and once I spotted them I quickly called Fikki and bought two pairs for us. I was quite sceptical about pairing these trousers with a powder pink sweater but thankfully it worked well for dinner with the boyfriend and his family.
And the rest...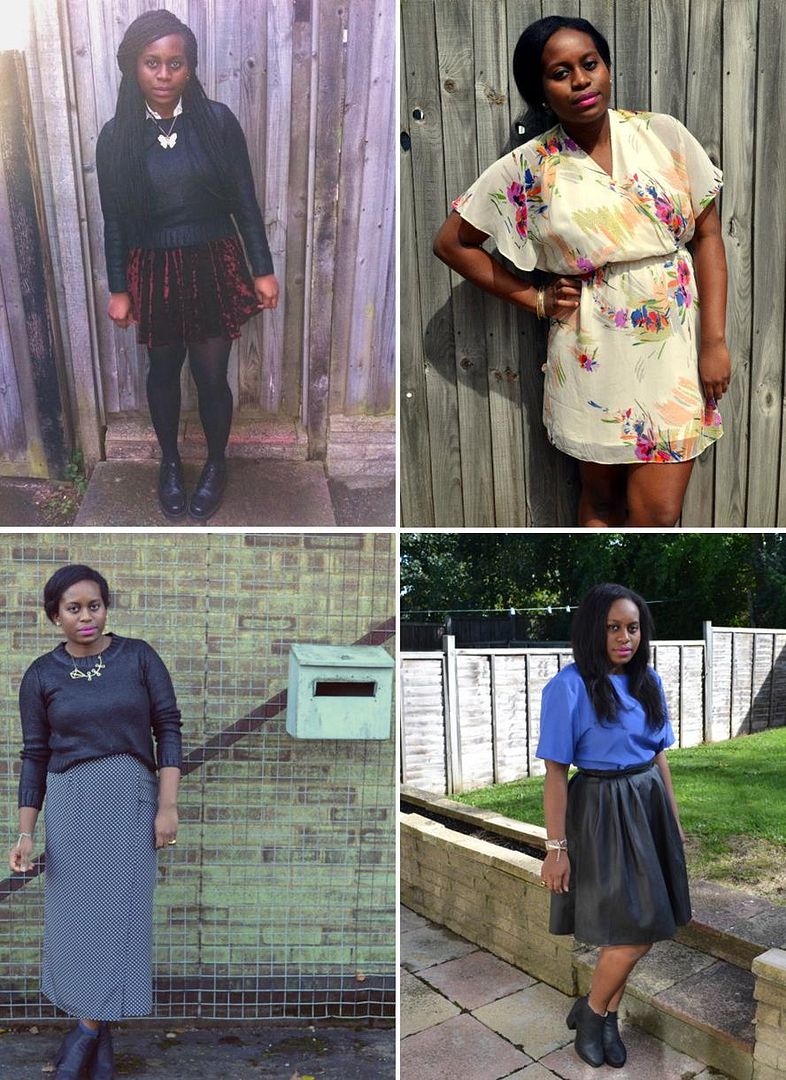 These outfits represent something from each season and some of the bargains I got my hands on. I bought one of my favourite skirts in Primark for £1 in January which I wore with everything (top left) and picked up a pretty dress from Urban Outfitters in the summer (top right) as part of a buy one get one free promotion. I toured charity shops to death and got the long spotted skirt for £3 in a Disbury charity shop. And finally in the autumn, I got a leather skirt from H&M for £7 and the top for £1.50.
Fikki:
These four pictures do not only show some of my favourite outfits but also the four hairstyles I wore this year, from the mini afro I wore in Malta (bottom right) to the long locks I curled for my trip to see phantom of the opera with the boyfriend(bottom left). The pictures also document key moments this year which include wearing an ankara dress at my mum's 50th birthday (top left) and chilling in baggy trousers and a crop with my two of my favourite ladies in Mexico (top right)...It's definitely been a great year!
It means alot to us that people actually read and comment on our blog so thanks so much. Through blogging, we have met some really lovely people, gained some new skills and had opportunities that have been great. Have a fabulous time partying/spending time with family today and wish everyone a Happy New Year!