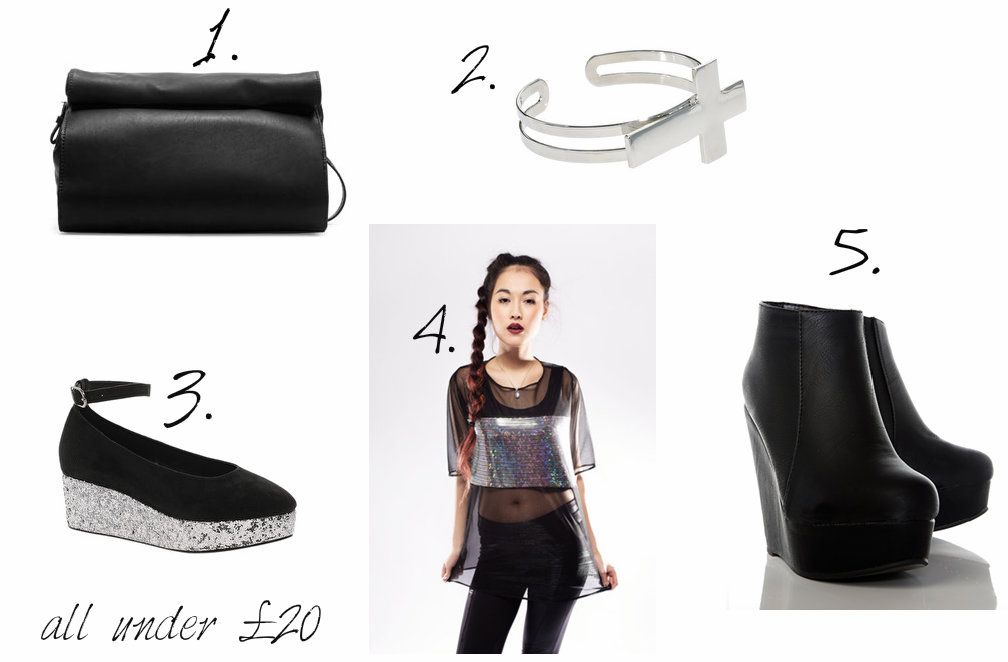 Start of a new month signals new cash for me and this means a review of all the things I have stuck in my bookmark for later. However, I've been looking out for cheaper stuff because I am already saving for summer holidays so everything on this list is either on sale (2,3) or just being sold at that price (1,4,5)
1
Zara always has some really gorgeous bags and this one is no exception. I love the simple look and it seems like it will fit my dslr nicely.
3
Everyone needs a spangly pair of flatforms in their life!
4
When I was in the Manchester city centre with Fikki last week, we came across a store called
Thriftette
so we went in for a browse and I'm glad we did. They sell new and vintage clothes, shoes and accessories. I really like their original creations especially the holographic tops. To see more, also check out Sarah from
Fashion Dotty
's post on the brand. I have told myself I am going back for that top above, I really need it in my life.
5
The Wedge boots is from a site which Robyn featured on her blog -
RobynMayday
. Everything on the site as it says is £5, from shoes and clothes to accessories. Whilst going through the footwear section, I came across these but as I was about to buy them I realised they had sold out in black and in my size! So I keep frantically stalking the website hoping they come back.