On day 2 of LFW, we both finally met up to see more Fashion Scout shows. This season was our first LFW experience and we had an amazing time. It was so surreal seeing so many well-dressed people in such a small space. We literally spent the whole day discussing how much we really love that girl's skirt, or that woman's jacket or that boy's handbag. We both heart a man with a good clutch bag!
right photo courtesy of moda.cz


Our day started with the Ones to Watch show at midday. Three designers showcased their work and our favourite was Yulia Kondranina. Cut-out designs and Tassels...what's not to love! After the show we traipsed down to Covent Garden for a spot of lunch, polished off a bottle of wine by 2pm and racked up a hefty lunchtime bill. All part of the LFW experience...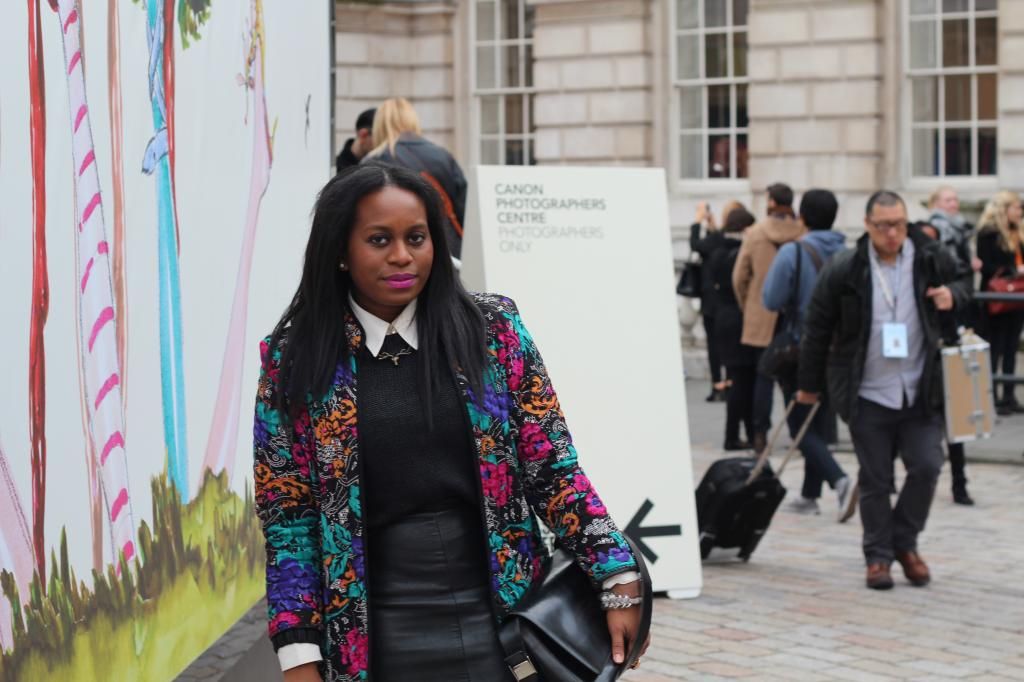 Lola - Blazer/Cow Vintage; Jumper/H&M; Shirt/Thrifted; Leather Skirt/Thrifted; Boots/So You shoes; Bag/Miu Miu
Fikki - Skirt/H&M (in store now); Jumper/Primark (in store now); Sequin jacket/Drag queen's wardrobe (see future post); Bag/Thrifted; Shoes/Primark
Then it was off to Somerset house for some street style. The grounds were heaving with celebrities and bloggers alike. We spotted some MIC cast, VV Brown and that Diddy dirty money girl (insert name here). It was also great to meet some of the lovely bloggers whose pages we frequent and also got a chance to catch up with a friend from uni who now works in the industry. One thing about the experience that we loved was strangers asking to have a photo of our outfits. That must be how models/celebrities feel. Next season we plan on expressing our creative sides a lot more (*cue dress crafted out of meat a la gaga).
A couple more Fashion Scout shows and our time at LFW was over. Although we had tickets for shows on the remaining three days, med/law school and family plans meant we had to cut our trip short. Looking forward to next season. Thankfully Manchester fashion week is only round the corner.