& Other Stories
is a brand from the people at H&M which recently caught my eye when browsing for new brands. The concept for the brand is one based on their understanding that
"a woman with a love for fashion creates her own style...she wears things that feel right to her and reflect her personality"
i.e allow the customer to choose how they wear it. The brand wants to show we create our own style based on composition of the inspiration we get from all the different sources of social media including from us bloggers. The way in which the set out the pictures on the website easily reflects this notion setting it out as you would see on the pages of a magazine or on tumblr perhaps.
One one hand, the branding seems to piggy back on the personalization of fashion through social media but it is great marketing - it got my attention! The brand consists of tailored pieces with minimalism and structure that just screams Scandinavian coolness. It all feels quite light and is very similar to COS with the addition of cool metallics and gorgeous prints. I also love the focus on styling in the lookbooks on their website. Here are a few of the pieces I picked out from a browse, I really love the print dress and the perforated wedges.

What do you guys think?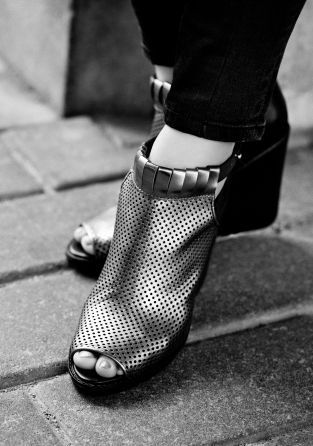 (Source: www.stories.com)