Fikki - As a proud Ijuebu girl I literally hate
spending
wasting my own money. The Ijebu people represent one of the many ethnic groups in Nigeria and a misconstrued stereotype about Ijebu people is our frugality. However I seem to live up to the stereotype in a few ways. I'm one of those strange people who insist on giving any food a good sniff before deciding whether it truly is past that silly sell-by date.
So can you imagine how happy I was when I saw a pack of exotic mushrooms in the reduced aisle of my local ASDA. I had always been meaning to buy a box but always got sidetracked by the cheaper box of plain white mushrooms. At only 25p for a box, I had to buy them. I definitely find it harder to resist a bargain compared to other people.
This is what I did with the box.
1) A good selection of sliced exotic mushrooms - shitake, enokitake and oyster mushrooms. I love the texture of these mushrooms when cooked, they feel a lot more meatier than plain white ones.
2) I added some cashew nuts, spring onions and red onions.
3) Stir fry it all in a sauce of your choice. I had a stir fry sauce left over from another meal. I cant remember the ingredients in the sauce (i used random things in my cupboard) but you can use a sachet of ready made oriental sauce ie sweet and sour, hoisin, blackbean etc.
4) Mix it with basmati rice.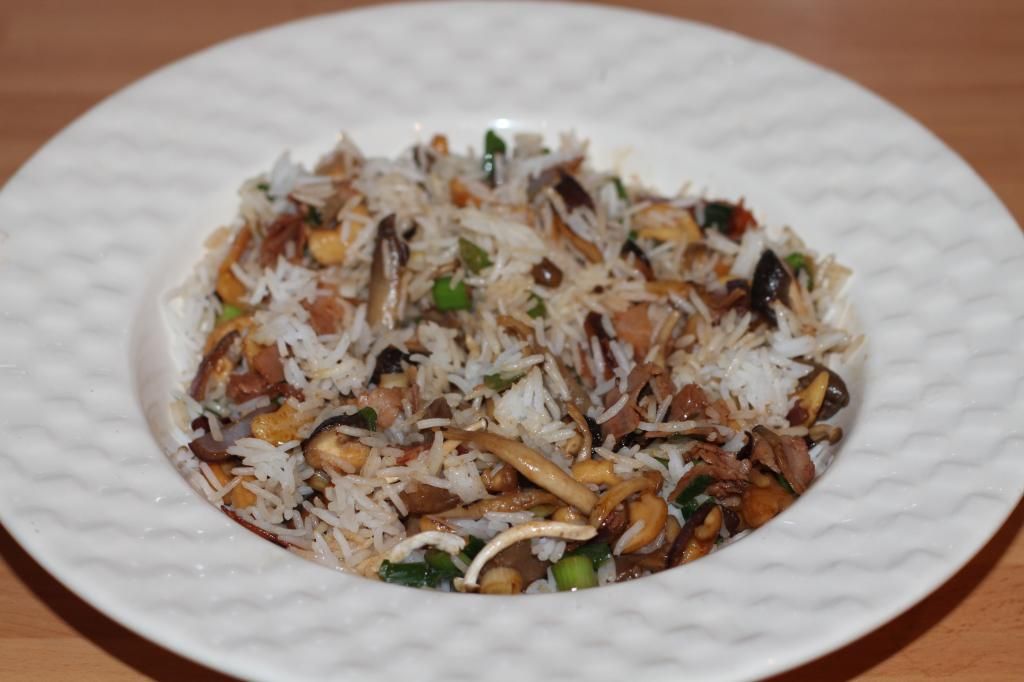 Nothing fancy but a very yummy stir fry!