This post is way overdue because we lost the SD card with these pictures on it and only recently found it. Anyway, when Fikki and I attended the MCRFW blogger meet up, we were treated with a second blogger gift box with new products to try out. You can see what we got in the first box here. (Really loving reviewing products so might continue to do this everyone once in awhile)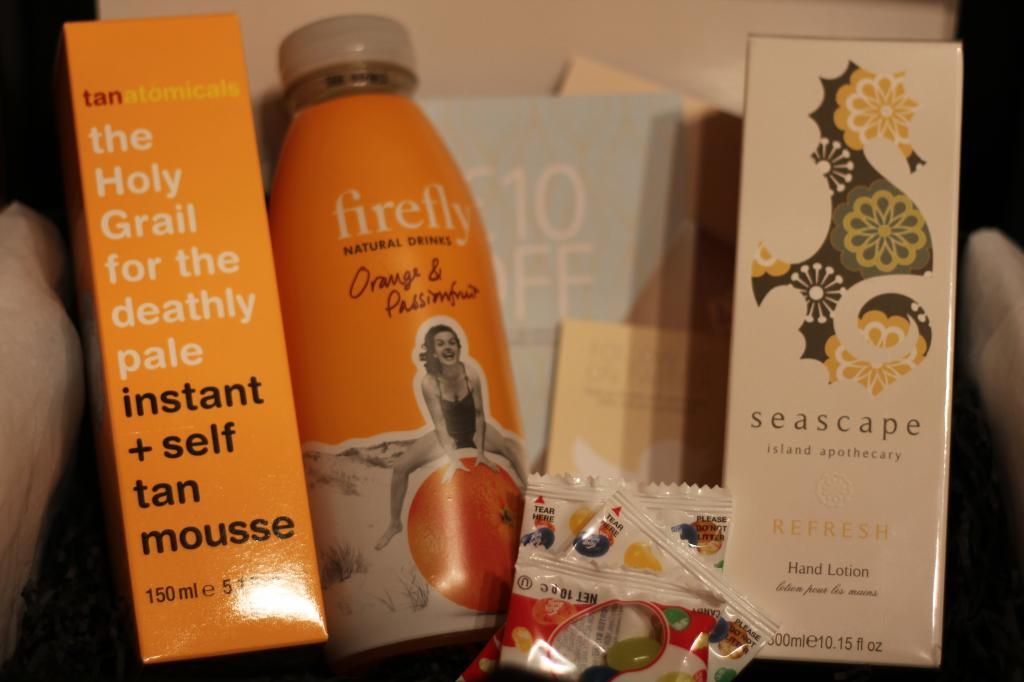 The treats:
I have a new found love for
Jelly Beans
after my house-mate and I made up a new game which we called jelly baby roulette. There are so many flavours that we try out so the aim of the 'game' was to randomly pick a flavour and try to guess correctly what it was. The best was peach and the worst was The
firefly drink
was so yummy and made me feel like human gain after a big night out with friends.
Now on to the products:
My hands are always so dry and it can get quite painful so I love trying out new brands and always have hand lotion in every room of the house so getting this to try out was great was great. I have not heard of the brand previous to this but from what I heard their products are great. The packaging is really pretty and can easily make a nice gift. The lotion itself was really soft and the really lovely scent of lavender is lush. If you don't like lavender then this probably is not for you but it you love it, definitely go for this product. I use it all the time so it's definitely doing something right.
A voucher for a complementary facial at skin health spa which we are really looking forward to using. I have an appointment on Wednesday and Fikki has booked her's for next week Tuesday. Look out for a post about our experience there.

Tanatomicals Tan Mousee
For obvious reasons, we did not use this product. I can understand why it was in the box because I'm sure all the other mcrfw girls love it. I gave my bottle to my flatmate to use so sadly I cannot comment on how we found it.
Although, Manchester Fashion Week has been postponed for the time being which is quite sad, we are still looking forward to the week and how amazing it's going to be. To see updates and news, check out the
Manchester Fashion Week website.