The boy officially got his first surgical training job!
So to celebrate, I decided to take him out for dinner at Mr Cooper's House and Garden, Manchester.
This exciting restaurant sits across the lobby of the Midland Hotel from the French, the other, more expensive, Manchester restaurant by culinary god Simon Rogan. Whilst I haven't had the pleasure of dining at any of his other restaurants (a trip to L'Enclume in Cartmel would be dreamy), the food at Mr Cooper's House and Garden simply highlights how deserving Simon Rogan is of all the critical acclaim.
The restaurant is set in history, on the land where a Mr Cooper once had a house and garden back in 1819. The main dining area - the garden - offers an all-year-round summer feel with wooden benches and chairs, plant walls, and a 30ft tree. Whilst the bar area - the house - comprises of a decadent library with curved seating and leather booth areas.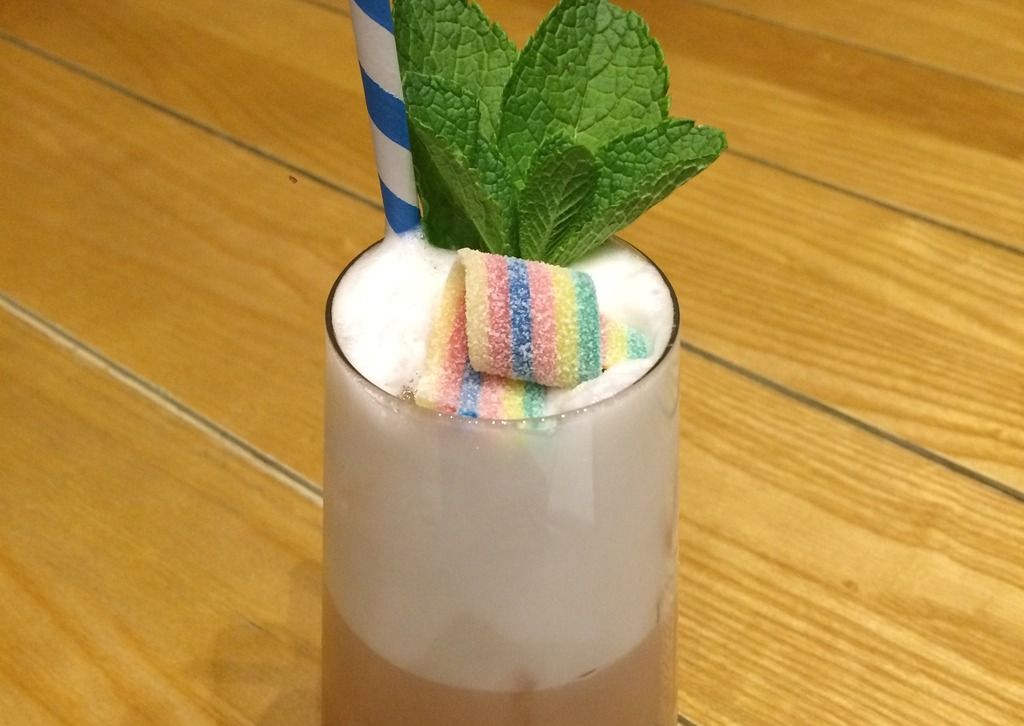 Cocktail: Socio Relapse £9
Dinner started with a cocktail...of course! The Socio Relapse was a delicious blend of Watermelon, Pomegranate and Orange Blossom with splashings of Vodka and Absinthe, topped with an Egg white foam, Basil and the all important tangy sherbet sweet.
Although it was a school night, a few glasses of red didn't go amiss.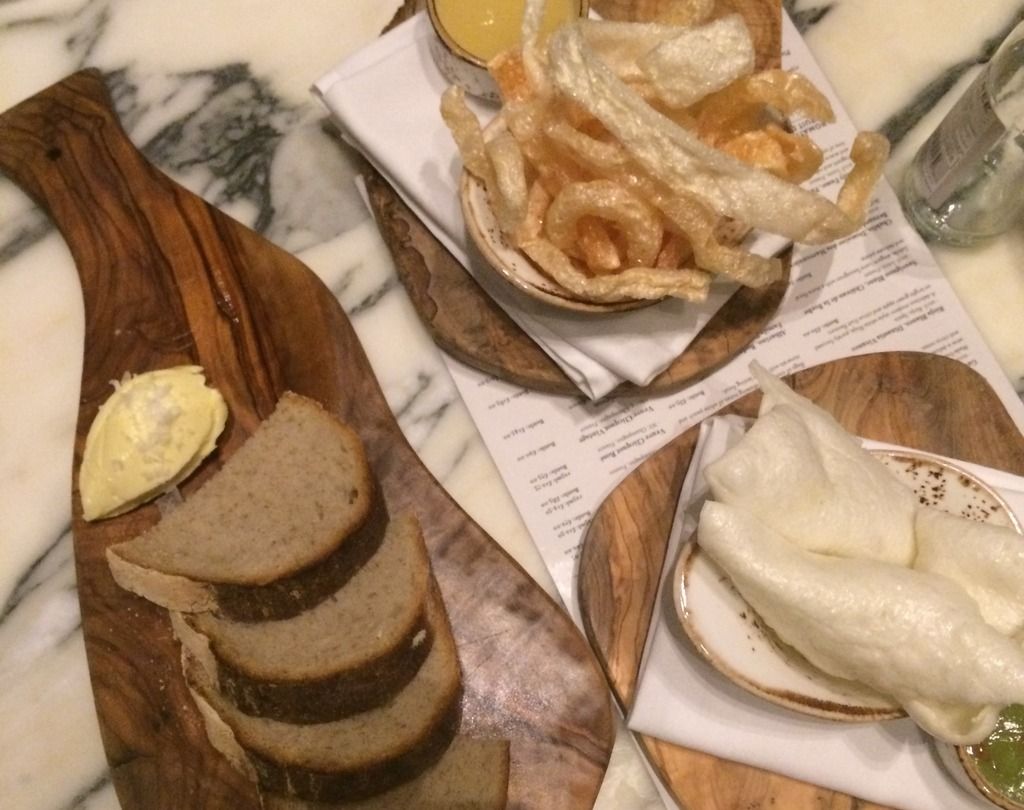 Snacks: Home baked sourdough, whipped butter and salt flakes (£3.50); Blue cheese puffs, celery and chilli (£3.50); Pork scratchings and apple gel (£3.50)
If you're out for a less celebratory affair, these snacks to share make a fabulous starter and, at £3.50 each, are a bit more pocket friendly. The pork crackling (top) was crunchy and delicious, served with a sweet apple gel. Although I expected a more doughy dish, the cheese puffs (right) were a cross between the texture of a prawn cracker and the fragrant taste and smell of blue cheese. Strange but tasty!
Starter: Avocado and sweetcorn relish, crab kataifi, red pepper sabayon and perilla leaf (£7.50)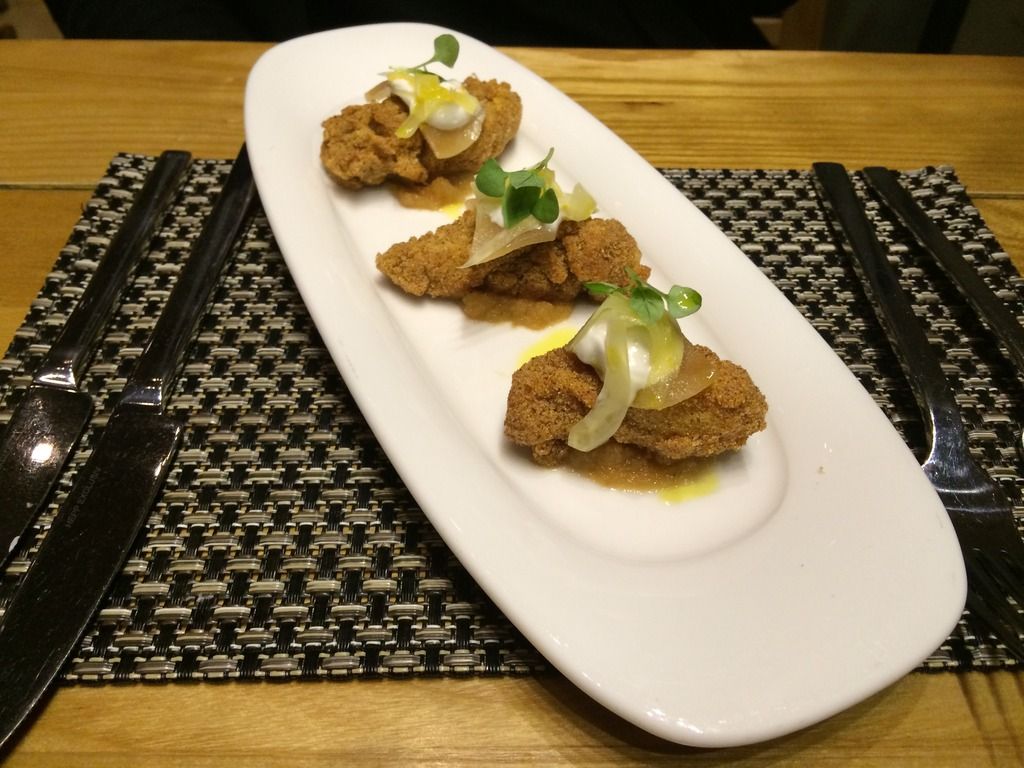 Starter: Buttermilk fried oyster, kimchee purée, pear and pickled fennel (£8.00)
Of the two starters the fried oyster dish won hands down.
The combination of sweet from the pear, sour from the pickle and spicy from not sure where, was delightful.
Main: Duck dish which is sadly no longer on the menu. Possibly the best main I have ever had at any restaurant!
Main:Cumbrian rib steak, truffle pudding and purple potato latkes (£22.50)
This time round we both went for the steak. I went for medium rare succulent meat with a gravy, which was so full of flavour.
The only minor complaint on my part was the salt content. Possible a little too rich for me.
Dessert: Banana rocks, macadamia and blackberry (£7.50)
Dessert: Caramel tart with mascarpone ice cream (£7.00)
I probably kept things safe by opting for the sticky sweet caramel tart, which was everything I expected and was perfectly complimented by the mascarpone ice cream. The boy went on more of a culinary adventure with the liquid nitrogen prepare banana rocks dish which was so delicious my spoon wouldn't leave his plate (which was a stunning design too).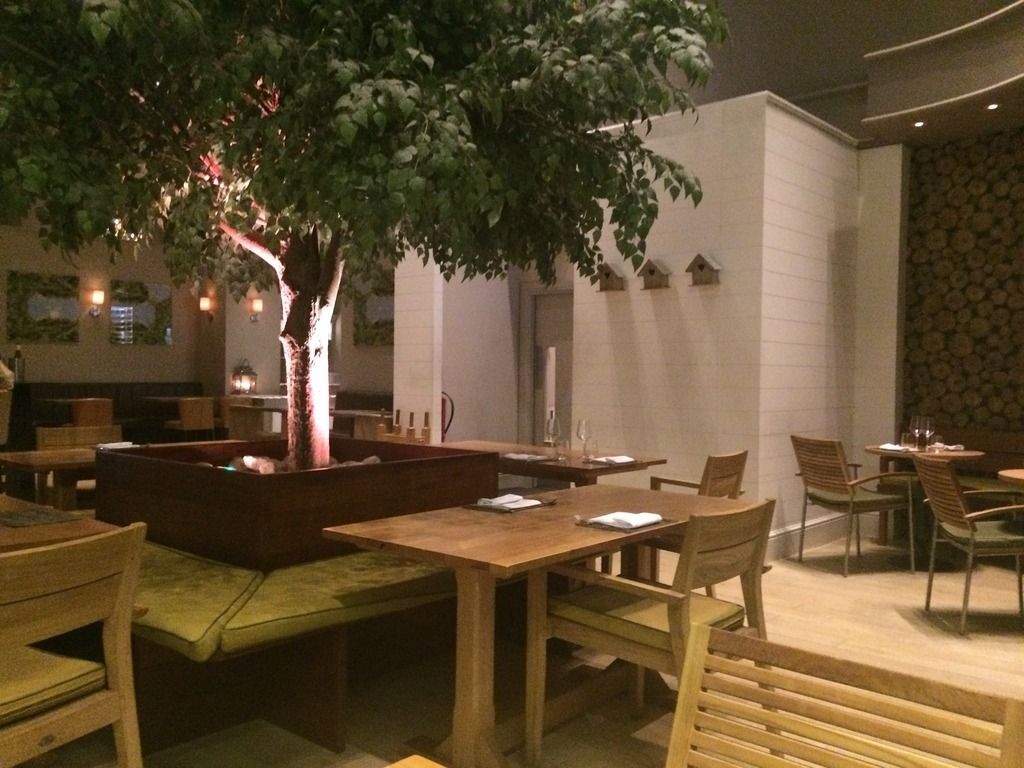 With starter and desserts ranging from £5.50 - £11 and mains costing between £13.50 - £22.50. Mr Cooper's House and Garden is an excellent choice, in Manchester, for a taste of fine dining without breaking the bank.

Follow us on Twitter Follow us on Instagram
PS: I think this dinner has redeemed me after a series of "date fails". A word of advice don't waste 2-3 hours of your life watching Jupiter Ascending. Save those hours for something more useful or entertaining.