I'm currently rotating through the emergency department as a junior doctor which means I do a set of night shifts every three weeks. Whilst pasta, rice or bread may be great for lunch options during daytime shifts, I generally like to avoid anything too carb-heavy at night. There is nothing worse than fighting a "carb-coma"whilst trying to figure out if that man's shortness of breath and chest pain is a heart attack, a clot on his lungs or something else.

Utilising the hipster's holy grail - the mason jar - prepping salads this way allows you to make lunch for several days in advance. All the ingredients including the salad leaves stay fresh and crisp, for up to 5 days, because they are stored in an airtight glass jar.
Prepping a week's worth of lunches all at once is great. Aside from the work of assembling all the jars in the first place, this method means that mid week you can just grab a jar of healthy goodness out of the fridge. Leave the packet of crisps and the chocolate bar in the vending machine where they belong.


This post is meant to give you some tips on how to make a Salad-In-A-Jar post rather than provide specific recipes for them. I might do a post in the future with a few recipes on prep day. The trick to making these salads is layering the ingredients in the right order. If done correctly, the jar you eat each day of the week will just be as good as the one before.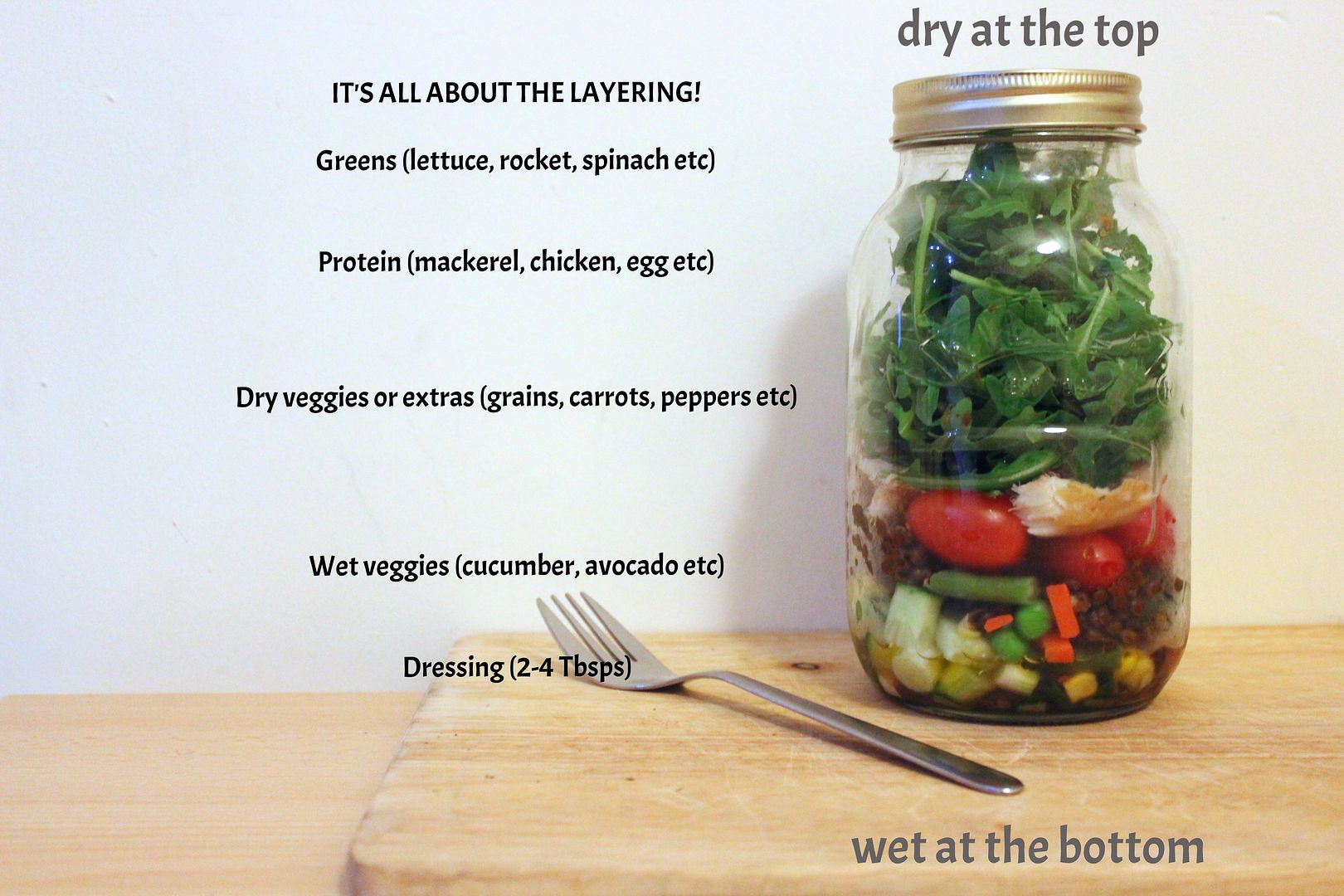 I use one litre Kilner jars which have a wide mouth so that allows me to easily get the salad in and out of the jar. Although you probably can with a long fork, I personally don't eat straight from the jar. I take a plastic container to work with me, give the jar a good shake to mix all the ingredients with the dressing and then tip the salad into the container.
You can customise the contents of your jar based on what you like to have in your salad. You can opt for a Caesar salad, Greek salad, Niçoise salad or even better create your own. I've been making a variety of Fikki salads recently. You can mix and match so many different ingredients that you'll never get bored. Just remember, it's all about the layering!

Follow us on Twitter Follow us on Instagram