I love the fact that restaurants start planning their christmas menus many months before december. A lot of time and effort goes into their creation of the perfect Christmas celebration meal. December is a very busy time for restaurants - friendship groups have their annual reunion, offices up and down host a christmas meal and couples make the most of the deals available. So having the right christmas menu can be the difference between ringing tills and empty seats. And I think the christmas menu at
Ning, Manchester
will have their tills ringing like sleigh bells this upcoming festive season.
Lola and I fell in love with Ning
after our last tasting experience
at the restaurant owned by renowned Malaysian chef, Norman Musa. So we were excited to get the chance to have a sneak preview of the christmas menu that will be on offer this December. This year, Chef Norman Musa has created a three course banquet that showcases the flavours of Malaysian cuisine at its best but with a festive twist. The banquet is £28.95 per head and is based on a minimum of 4 people sharing a selection of starters and main and finishing off with their choice of dessert.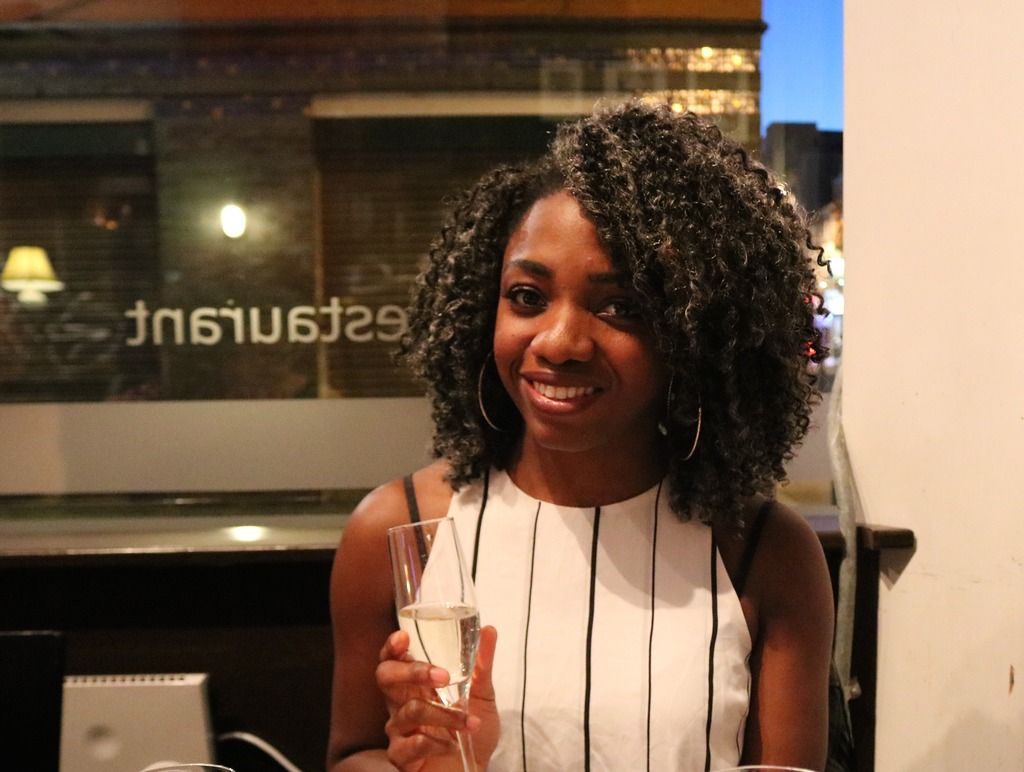 Upon arrival to the intimate restaurant at the top of the Northern Quarter in Manchester, we were greeted with glasses of prosecco and seated at the festive table which was dressed with red accents and dotted with crackers. Naturally, we pulled on a cracker or two whilst munching on prawn crackers and waiting for the banquet to begin.
The meal began with an amuse bouche style Laksa Soup Shot which was a creamy combination of butternut squash, sweet potato and Laksa paste topped with crispy anchovy dust. The "Yee Sang" Seafood Salad, a dish traditionally served during festive periods in many parts of Southeast Asia, evoked fond memories of my time in Malaysia a few years ago and added to the authenticity of the banquest. The final two starters were the Venison Loh Kei Bak (white radish and carrot with pieces of venison wrapped in a deep fried tofu sheet) and the delicious Green Chicken Skewers served with a peanut sauce we couldn't get enough of!
The main courses were up next - four dishes to be shared and served with jasmine rice. The Braised Beef infused with a selection of spices and herbs was very rich in flavour; the Cumin and Coriander chicken in a mildly spicy sweet and sour sauce was a favourite of many on the table whilst the Prawn with Roasted Pineapple Rendang was a delicious combination. My favourite however was the succulent Seared Seabass served with a lemongrass, tumeric and chilli sauce. I think i had more than my share of it!
Whilst other dinners will only get a chance to choose one of these desserts we had the opportunity to try them all. The four desserts up for grab are a warm Christmas Pudding served with brandy or custard sauce; Molten Chocolate served with cream of pandan, crushed pistachios and fresh fruits; Fresh Fruits with Rose Jelly or Tai Tai with Mango and Coconut Jam. The last one is probably the most exotic option and it tasted as delicious as it sounded.
By the end we were all stuffed! We ended things with our first mince pie of the year. It was a great banquet which I think would make a different yet fantastic option for a work christmas do or any other dinner planned for the upcoming festive season. They even do an alternative menu suitable for vegetarians or vegans.
Our new Instagram page is live so follow us!
@thepastimebliss